Princess Anne visits Le Rondin and Le Murier schools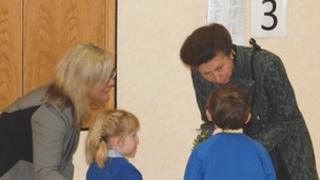 The Princess Royal has paid a visit to two Guernsey schools which have been supported by one of her charities.
Princess Anne saw children at Le Murier School using a climbing wall which was provided by the Wooden Spoon Society, of which she is royal patron.
She also heard a series of songs from pupils at Le Rondin School, including the Guernsey anthem Sarnia Cherie, before going on a tour of the premises.
Both schools are attended by children with learning disabilities.
Christine De Kock, deputy head teacher at Le Rondin, said she was proud of the performance put on by her pupils.
"The children were superb," she said. "They sang their little hearts out and they were so excited."
Princess Anne's programme of engagements also included a visit to the St John Ambulance and Rescue Service headquarters at Les Rohais in St Peter Port, in her role as commandant-in-chief of the St John Ambulance cadets.
In the afternoon, members of the Guernsey rugby academy put on a display of their training routines at Footes Lane, as the royal visitor inspected the Guernsey Rugby Union Football Club's new clubhouse.
She has a long-standing connection with rugby union and is patron of Scottish Rugby.