Guernsey charity shoebox appeal sees record number sent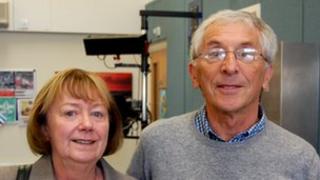 Guernsey residents have sent a record number of shoeboxes to underprivileged children in an annual charity appeal.
The Rotary Club of Guernsey, which organises the collection, told BBC Guernsey 3,240 boxes full of gifts had been sent on Tuesday.
Co-ordinators Heather and Alan Dearman said each box had been checked, wrapped and dispatched to children in Tanzania and Montenegro in time for Christmas.
They will be added to a further 24,000 boxes from the Wessex region.
Mrs Dearman said the boxes would be very well appreciated by the recipients.
"These children don't have anything. They don't get any presents. That's why we like to send them."
This year's number represented a rise of 3% over that of 2010 and an increase from 2,000 boxes in 2008.
Each box is checked by volunteers to make sure no liquids, sweets or chocolate are included.