St Peter Port's North Beach car park to lose 200 spaces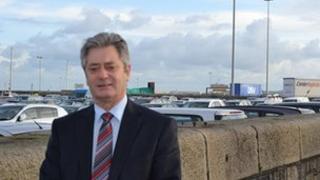 St Peter Port's North Beach car park is to lose about 200 spaces for 30 months, while a project is undertaken to upgrade the harbour's crane berths.
Deputy Bernard Flouquet, the public services minister, said other areas around the port would be used to accommodate cars.
"That will impact on other port users," he said, "but this is an essential project, so we feel the fairest solution is to share the burden."
Work is due to begin in April 2012.
Deputy Flouquet said 149 parking spaces could be found for commuters' use, which are currently reserved for port permit holders, fishermen and boat lay-ups.
A section of the Castle Emplacement, used for parking during the summer only, will become available year round.
'Maintain operations'
The North Beach provides free parking in two, three and 10-hour disc zones.
A section of it is required to house a secure compound for the project.
This will provide storage for materials needed to refurbish the berths on which new cranes will be housed.
Four of the five cranes currently in use will be replaced by two moveable cranes.
Deputy Flouquet said: "Although we appreciate the impact any loss of parking at North Beach may have, we have to maintain harbour operations while this work is carried out."
The project is subject to planning approval from the Environment Department, which will also be responsible for allocating any replacement parking.