St Sampson's Harbour plan may include deep-water berth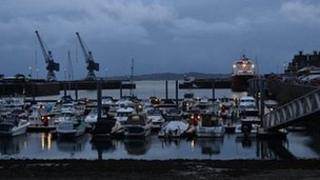 Guernsey's commercial harbour is likely to include a deep-water berth in the next decade, according to the island's harbour master.
Captain Peter Gill said modern shipping was not designed to be able to sit on the bottom, as vessels currently need to in St Sampson's tidal harbour.
He said the issue was one being examined in the harbour master plan.
Captain Gill said: "We know by the early 2020s we need to be finding solutions to the problem."
He said: "We will probably have an 'always afloat' berth outside St Sampson's... probably further to the south around Longue Hougue.
"It aims at giving us a road map of all the requirements for the medium and long term."
He said he hoped the plan, which is due to set out the medium and long-term requirements for the islands' harbours, would be completed within six months.
Captain Gill said St Sampson's Harbour was vital as "it's where the commercial and material side of the island operates from [and] without this we don't have life on the island".
He said: "Technically, the harbour is medieval because the ships do come and dry out and that's how the cargoes were loaded and unloaded several hundred years ago.
"Ships, by and large, are designed to be always afloat and these berths are what is known in the trade as a Naabsa berth - Not Always Afloat But Safely Aground - and that's a pretty unique feature these days.
"The ships that were bought - the Sarnia Cherie and Sarnia Liberty - are capable of sitting on the bottom; it's one of the reasons the States bought them, as those ships are becoming increasingly rare and standard shipping does require to be always afloat."