Guernsey student to visit Arctic Circle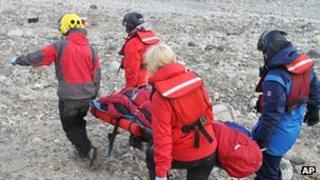 A Guernsey student will be heading to the Arctic Circle - a year after a boy was killed by a polar bear.
Horatio Chapple, 17, from Salisbury was attacked while on the British Schools Exploring Society's trip to the island of Svalbard.
The 2012 trip to Finnmark, on mainland Norway, will include Elizabeth College student Jack Trott.
He said the attack had made him more aware of the risks involved, but they were outweighed by the benefits.
Brian Aplin, from the college, said: "Obviously last year was a dreadful incident.
"We've been sending boys since at least the early 1990s and there's enormous value in engaging with this kind of organisation and heading off to remote and wild places."
Jack said he had been attracted to the location by documentaries including David Attenborough's Frozen Planet.
Richard Bailey, from Herm, was among those on the 2011 trip to Svalbard and was uninjured in the attack.
The British Schools Exploring Society said it would not be visiting Svalbard until the completion of an independent inquiry into the events.
Spokesman Robert Lester said: "We will consider Sir David [Steel]'s recommendations before making any decision about whether to go back, but we have certainly not ruled it out."
The trips, which started in the 1930s, involve carrying out scientific experiments.