St Martin's Grande Rue compromise over parking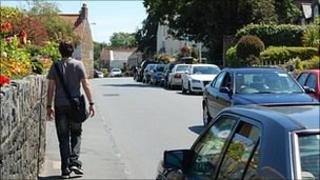 Guernsey drivers and business owners in the parish of St Martin have been told of a compromise over parking in the Grande Rue shopping area.
The Environment Department said a 10m passing point would be created by the end of the year to reduce congestion.
It follows a public consultation over the scrapping of a disc-zone along the south side of the road to prevent vehicles having to mount the pavement.
A department spokesman said the decision reflected business concerns.
He said: "There was some significant opposition to the removal of all the parking, particularly from businesses in the area."
"Drivers are reminded that extreme care should be taken if they are forced to mount footpaths, particularly in locations such as Grande Rue where there is a likelihood of encountering pedestrians."
The new road markings are expected to be finished by the end of the month, weather permitting.