Guernsey postman in world record wheelie attempt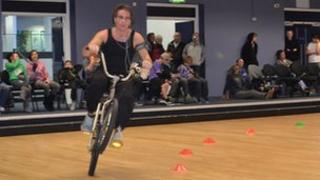 A Guernsey postman has completed an attempt to break the world record for the longest distance cycled on one wheel in an hour.
Dave Robilliard cycled 10.68 miles on Tuesday to raise money and awareness for a proposed skate park.
Mr Robilliard believes he exceeded the current record of 10.56 miles but his effort is subject to approval from the Guinness World Records group.
He said: "I have trained so hard for this record."
After the event, Mr Robilliard said he was planning to attempt records for a wheelie over 100m in the shortest time and also a wheelie lasting more than eleven hours.
The existing record for longest distance cycled on one wheel in an hour is held by a rider in Germany.
Mr Robilliard said surpassing the distance was "a dream come true".
He added: "I didn't want to just come and beat it, I wanted to destroy the record."