Public Services considered removing granite structures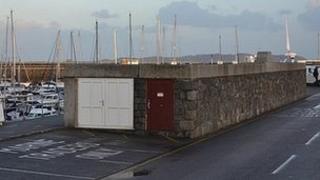 A suggestion of removing seven granite structures from St Peter Port was dismissed as too expensive by Guernsey's Public Services Department.
It follows a call from marine traders to remove the structures instead of halving their number of parking spaces during harbour upgrade work.
A Public Services spokesman said the cost of removal and reinstatement had "rendered this option uneconomic".
They also said the traders were welcome to make their views known to planners.
The plans for the 30-month project include using a space currently occupied by 203 public parking spaces to house a secure compound for working on the harbour's crane berths.
Public Services has suggested about 150 spaces can be freed up by reducing the amount of spaces available for port permit holders, fishermen, boat lay-ups and marine traders.
The project plans have been submitted to the Environment Department, which is also responsible for allocating any replacement parking.