Guernsey's new bus provider chosen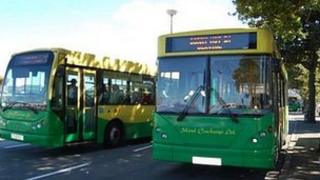 The company which will provide Guernsey's bus services from April has been chosen by the island's Environment Department.
CT Plus, part of the HCT group, was chosen out of six companies who put forward proposals to the department.
The company operates nine London bus routes and runs more than 300 vehicles from 11 depots across the UK.
A department spokesman said the contract would be negotiated "in the coming weeks".
He said that would include working with Island Coachways, which holds the current contract, on the handover of the service.
The HCT (Hackney Community Transport) Group describes itself as a social enterprise that reinvests the profits from its commercial work into further transport services or projects in the communities it serves.
Deputy Environment Minister Jenny Tasker said: "They are well experienced in providing smaller communities and larger communities the kind of service we are looking for.
"They came out well on top, they demonstrated immediately, not only in the details they provided in hard copy, that they appear to have done a great deal of work to find out about the island, about its current transport service and how it operated."
Drivers offered jobs
She said the initial contract was likely to be for two to three years.
The island's only bus depot, which is currently on a long-term lease to Island Coachways, has been seen as a possible stumbling block for any new operator.
Deputy Tasker said the company could use the land behind the depot, as it is owned by the States, but other options were being considered.
She said the current bus drivers "will be offered posts with the new company".
Deputy Tasker said the fleet of 41 buses owned by the States and currently operated by Island Coachways would be used by the new operator "at the moment".
She said she was confident there would be a bus service up-and-running on 1 April "which will serve the island well".