Guernsey waste plans to bring extra costs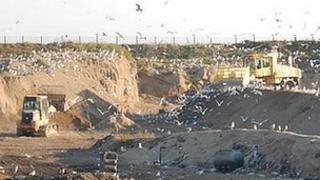 The average cost to a Guernsey household for waste will rise by at least £70 a year if States members approve new waste plans.
It puts waste reduction and increased recycling as the highest priority with any remaining waste to be exported.
The project is expected to cost the island about £180m over the next 20 years.
The proposals would cost the average household between about a £170-180 a year, compared to about £100 presently.
The current recycling target of 50%, which has yet to be achieved, is to rise to 70% by 2025 with interim targets in between.
Public Services Minister Bernard Flouquet said: "The States decided that we had to rethink how we deal with our waste, from top to bottom.
"The proposed strategy therefore sets out a comprehensive, step-by-step approach, aimed first and foremost on minimising the amount of waste requiring treatment and disposal."
The two other possibilities, which were ruled out, were on-island heat treatment - in an incinerator, gasification or pyrolysis plant - or a further stage of processing to produce a fuel product, which would also be shipped off-island.
Of these potential scenarios Public Services said it preferred the option of waste export as it had the lowest cost over a 20-year period.
Deputy Flouquet said a decision on where the waste would be exported to had not been decided.
He said: "Jersey is the most obvious location, but we also need to do some market testing to ensure that such a deal would be equally advantageous to both islands."
Work on the new strategy began in February 2010 after the States threw out plans for an energy-from-waste incinerator for the second time.
The proposals are due to be discussed next month.