Guernsey's Sea Fisheries patrol for ormering tide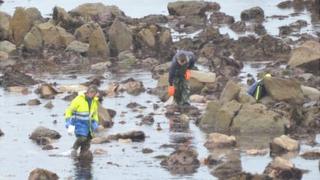 Guernsey's Sea Fisheries officers carried out shoreline patrols for the first ormering tide of 2012.
Hundreds of islanders have taken to the Bailiwick's shores to gather ormers, a local delicacy, which are protected to ensure stocks are not depleted.
Sea Fisheries warned gatherers not to wear a wetsuit or take any shellfish under 8cm.
A spokesperson said they would be carrying out spot checks to ensure no undersize ormers were collected.
They said boats returning from the ormering grounds off Herm would also be monitored.
Ormers, called abalones elsewhere in the world, are a local delicacy and are mainly used as the key ingredient in a stew.
Their collection is only allowed on specific days, those of the full moon, new moon and two days following, between January and April each year.