Guernsey charity appeals for home for two donkeys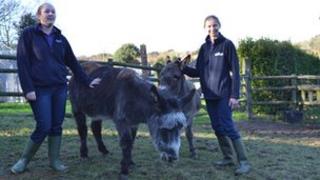 A Guernsey animal charity has appealed for islanders to take on the challenge of looking after two donkeys.
The Guernsey Society for the Prevention of Cruelty to Animals (GSPCA) took them in as the previous owner could no longer care for them.
However, welfare and education officer Emma Trousdale, said: "They can be difficult and stubborn and they can throw their toys out of the pram."
She said anyone taking on Dizzy and Naomi would need to do their research.
Care assistant Sheryl Carre said: "They require someone that's got a lot of time and a lot of space.
"They also need a shelter for bad weather so they've got somewhere to sleep in and somewhere to hide."
The donkeys also require a dental check-up every six months.
Ms Carre added that Naomi would need a particular mix of food tailored to her age.