Guernsey sewage pipe is safe, according to a study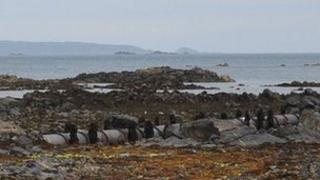 A marine study in Guernsey has concluded that discharge from a coastal sewage pipe is not a significant contributor to local bathing water.
Intertek-Metoc was commissioned by Guernsey's Public Services Department to undertake the study.
It stated that other sources in the island needed to be investigated for water compliance issues.
It added that while the pipe at Belle Greve Bay was not meeting UK standards, it could be improved with a device.
The company recommended a diffuser attached to the outfall would help dilute the waste in line with UK standards.
Intertek-Metoc presented its findings to about 65 people at Beau Sejour Leisure Centre on 13 January, as part of a meeting to discuss the Public Services Department's sewage treatment proposals.
The department announced it would submit a report to politicians stating that a full sewage treatment facility was not necessary for Guernsey.
The issue will be debated by the States of Guernsey in its January meeting.