Campaign steps up ahead of Guernsey sewage debate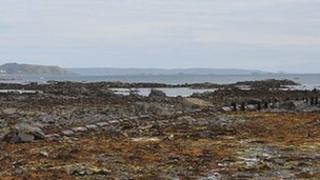 Campaigners have criticised a report on the effects of sewage off Guernsey ahead of a States debate on the issue next week.
Surfers Against Sewage has described the report that looked into the impact of sewage being pumped in the Little Russell as "flawed" and "misleading".
The Public Services Minister Bernard Flouquet has dismissed the claims.
He said: "All the evidence is that our long sea outfall is not having a negative impact on our environment."
The department has said the report means plans for a full sewage treatment plant, at the cost of £100m over 25 years could be sidelined.
Surfers Against Sewage said the recommendation to continue discharging 16,000 tons of untreated sewage daily into the sea, via the Belle Greve long sea outfall, was based on "inaccurate assumptions".
The group has questioned the modelling data used to decide the recommendations that the States are due to make, which include a replacement long sea outfall pipe, the installation of five diffusers at the outfall and to monitor the impact of sewage every four years.
The campaigners have also claimed consistently poor water quality results along Guernsey's west coast support their questioning of the report.
Deputy Flouquet said: "The nature of the Little Russell, with its large volume of water and rapidly moving tidal currents, enables us to meet the standards required elsewhere - after sewage treatment.
"That may just be Guernsey's good fortune, but it is a fact.
"Beyond the improvements we already have planned, there is no benefit to further land-based treatment, and certainly none that could justify spending £100 million of our taxpayers' money."
He said: "It is not just this new study that shows how extremely misguided this attack on Guernsey is.
"The Marine Conservation Society's latest Beachwatch survey clearly showed that our coastline is not only much cleaner than the UK's, it also far lower incidence of sewage-related debris.
'For example in the south west, where Surfers Against Sewage is based, the incidence of sewage debris was eight times higher than here, making it one of the worst regions in England."
Of 20 beaches tested for the Marine Conservation Society's 2011 Good Beach Guide, just one failed, which was Cobo Bay on the opposite coast to the island's sewage outfall.