Diver Roland Domaille disagrees with surfers' sewage complaints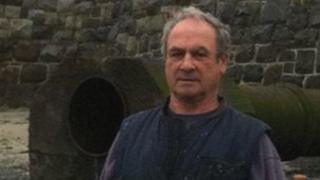 A diver claims a campaign against Guernsey's sewage policy is giving the island a bad name and is misunderstood.
Surfers Against Sewage (SAS) has called for full sewage treatment, rather than the current system of pumping waste into Belle Greve Bay.
Diver Roland Domaille claimed the group did not understand the local sewage dispersal situation.
Andy Cummins, of SAS, said people were not always aware of what they were looking for in terms of sewage.
He said: "People associate sewage with what might be found in the bottom of their toilet."
He added that sewage likely to be seen in the case of Guernsey was microscopic and would not be immediately visible.
'Little odour'
Mr Domaille said he had dived for scallops and flatfish in the bay for 40 years and had suffered no problems.
He said that while he did not agree with Surfers Against Sewage, he did support the Public Services Department's plan to upgrade the outfall pipe at Belle Greve.
He added that sewage from the pipe was quickly dispersed and produced little odour.
Surfers Against Sewage's campaign has involved questioning and warning passengers travelling to Guernsey by boat about the island's sewage policy.
The group said 79% of people questioned on one day at Weymouth ferry port had said they would not be happy to use the beaches and the seas around Guernsey.