Guernsey musicians at BBC Introducing Masterclass 2012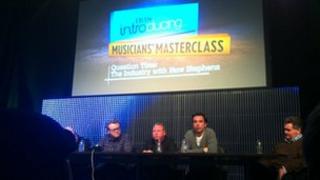 Three Guernsey musicians had the chance to learn from the experience of music industry insiders at the 2012 BBC Introducing Musicians' Masterclass.
Andy Sauvage, Tom Domaille and Julles Hunnisett attended the event at Abbey Road and Maida Vale Studios in London.
Presentations and workshops were delivered by the likes of Jamie Cullum, Trent Reznor and Frank Turner.
The second BBC Introducing Masterclass event took place on 19 January with more than 200 musicians attended.
Guitarist, singer and songwriter with band Lifejacket, Andy Sauvage, said: "I've been really inspired by the day, it's been an amazing opportunity and I'm very glad I had the chance to come here."
Andy added that the main message from the day was that "you should be making the music you want to make and if you believe in your music relentlessly, follow your dream".
Julles Hunnisett, MC with Pushang and a solo performer in his own right, attended the day with the hope of gaining insight and experience to take his work to the next level.
He said: "[The main advice I got was] be yourself, do it yourself, it seems like such a big step, but it's not, it can be right in the palm of your hands so go for it… grasp it and go for it."
Another aspect of the day that Julles said he benefited from was the chance to network with potential new collaborators.
He said: "It's been amazing, it's been networking all day. I've got 20 new emails and I'm going to contact them all straight away."
Brutus Stonefist and She Haunts The Road vocalist Tom Domaille echoed Julles' sentiments about meeting other people in the same position: "It's been good to meet so many other people in the same situation, who are trying to get a start somewhere and knowing that there is advice out there."
Some advice Tom got came from Frank Turner who may now be more famous for his work in folk punk but originally found notoriety in the hardcore scene Tom's bands work in.
Tom said: "I had a chat with Frank Turner and got some advice: 'Hardcore's never going to be mainstream so keep plugging away at the underground and keep going'."
As well as all the advice and insight all three musicians agreed that just being within the famous studios at Abbey Road had a certain effect on them.
Andy Sauvage summed it up when he said: "It's crazy to be at Abbey Road, it's just overwhelming really."
You can see videos from all the sessions that took place on the BBC Introducing website.