Guernsey's 'unique tides' wash away sewage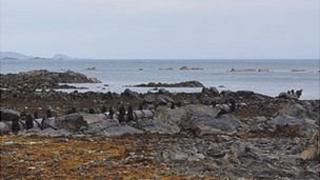 Guernsey does not need full sewage treatment, according to a former deputy who was responsible for dealing with the island's liquid waste for 10 years.
From 1974 to 1984 Peter Bougourd served as a member and later as president of the Public Thoroughfares Committee.
He has backed a report, due to be debated by the States next week, which found no treatment was needed.
He said: "There's no visible harm, there's no sewage debris on the beaches, none of it comes back ashore."
Mr Bougourd said: "I'm told we are unique, and we could well be, in so far as our tidal system runs away from the island and doesn't run up and down shore parallel."
He said there used to be five sewers discharging liquid waste into Belle Greve Bay, but that was stopped and replaced with a "long sea outfall".
Mr Bougourd said extensive research and testing in the 1960s confirmed the new outfall was far enough out for the sewage to be carried out to sea and treated naturally without harming water quality or the environment.
The lack of sewage treatment carried out in the island has been highlighted to travellers to Guernsey by UK campaign group Surfers Against Sewage.
Mr Bougourd said of the campaign: "I'm concerned about our reputation, but it is quite, quite undeserved because the proof of the pudding is in the eating - 40 years and the beaches are still perfectly clean."