Ecologist searches for new shrimp species in Guernsey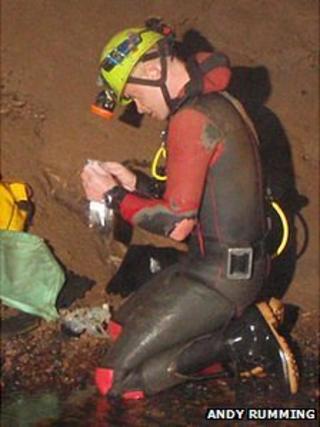 An ecologist hopes to find previously undiscovered fresh water creatures in the Bailiwick of Guernsey.
Lee Knight, from Devon, has spent 14 years travelling the UK looking for new species of cave dwelling blind shrimp.
He said little was know about the cave fauna so new species were often being discovered worldwide.
Mr Knight said as recently as 2010, a species never before seen in Britain had been discovered in a cave on the Mendip Hills of Somerset.
He said: "Work has found they are more widespread then first thought.
"In the entire Channel Islands there's only four records, one of which is from Guernsey and due to a lack of any sort of systematic survey work I highly suspected we will find other species, and certainly new records for current species."
The Guernsey report was of a species known as niphargus aquilex, which was found in St Martin in 1907.
Mr Knight is due to visit Guernsey, Alderney and Sark later this year and has asked islanders with wells or boreholes to give him permission to explore their underwater systems by contacting the Guernsey Biological Records Centre.
He said the sample process involved lowering a net, with an attached weight, to the sediment at the bottom of wells and boreholes, where the creatures are generally thought to live.
The net is then pulled up and down a few times to disturb the sediment before the net is hauled to the surface, hopefully catching shrimps on the way.
Mr Knight said the process is repeated three times at each site and his equipment could take samples down to 100m in depth and boreholes as small as 5cm in diameter.