World War II anti-landing devices found in Guernsey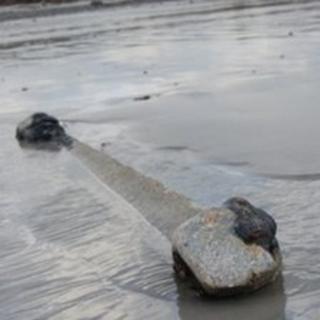 The remains of some World War II German anti-landing devices have been found on Guernsey's west coast.
They were discovered by a member of wartime conservation group Festung Guernsey at low water on Saline Bay near Grand Rocques.
Pierre Renier spotted a concrete object around the mid-tide mark while he was out for a walk.
He said: "I realised it was one of the German anti-landing defences which were festooned around the coastline."
Mr Renier added: "The coastline itself would have been the main point of defence for the Germans.
"I've certainly only ever seen these on one other bay in the island and in museums.
"We actually found four on the bay and you need six of them to build the tetrahedron-shaped object."
'Good condition'
Ian Brehaut, co-ordinator of Festung Guernsey, said the devices - called betontetraeder, which translates as concrete tetrahedron - were never removed following the Nazi occupation of the island.
He said: "It would seem the British Army disposed of them simply by cutting the wires that held them together and allowed them to fall on to the beach then just to sink into the sand.
"So what does occasionally happen when you have a gale, or the tidal conditions are such that the beach level drops, they are exposed.
"There are several beaches on the island that do still have them, at Fermain, Belle Greve and by Fort Doyle.
"These are in particularly good condition."
The anti-landing devices at Grandes Rocques were last exposed about 20 years ago.
Mr Brehaut said they were laid at mid-tide level "with most having an anti-tank mine attached".
He said: "The idea was that if the Allies made an amphibious landing it would be on a rising tide - at the mid-tide a landing craft coming ashore would hit the mine on the obstacle and be sunk."