Guernsey Rue Des Reines vinery fire under control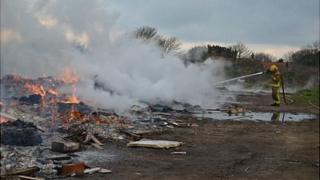 An out-of-control bonfire in St Pierre du Bois has been contained by the Guernsey Fire and Rescue Service.
Firefighters and three appliances were called to the vinery site on Rue Des Reines just before 10:00 GMT.
Commander Milton Le Moignan said the fire "had been left, got out of control and spread into an adjoining property's hedgerow".
He said that after talks with Environmental Health it was agreed it should burn out, under control.
The fire service said the blaze had burnt itself out and firefighters left the area before 14:00.