Guernsey parish asks for election volunteers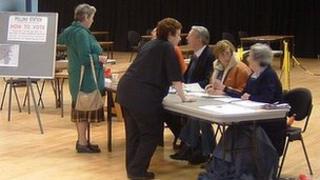 A Guernsey returning officer has appealed for more islanders to volunteer to help the island's deputies election to run smoothly.
Dennis Le Moignan, Junior Constable for St Peter Port, said they needed more people to man the four polling offices in the parish and help with the count.
He said they needed about 64 people to man the polls in shifts during the day and about 60 more to count the votes.
Mr Le Moignan said anyone aged over 16 was welcome to volunteer.
He said the parish douzaine operated four sites - The Constables' Office, St Stephen's Community Centre, Beau Sejour Leisure Centre and St John's Church Hall - as it ran both the districts of St Peter Port North and St Peter Port South.
Mr Le Moignan, who is also the returning officer for St Peter Port North, said: "It is a very, very important job.
"The polling booths shut at 20:00 and then boxes are collected and the count starts and this can go on through the evening until quite late, it has been know to go on until 13:00 when there is a really close count or... a recount was needed."
The election date has been set for 18 April with a new electoral roll closing on 29 February and nominations for candidates being accepted from 12-16 March.
Mr Le Moignan said: "There is a lot of apathy regarding the election, but it is important for people to vote.
"I know some people are saying 'we're not going to vote we're making a protest', but what they should realise is when they are doing that they are leaving the voting open to a minority.
"If people want to make a difference then they must go to the vote."