Guernsey Harbour criticised by Yachting Monthly users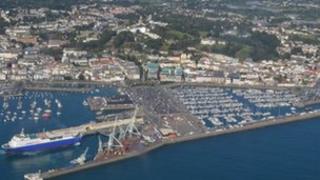 Guernsey Harbour has been heavily criticised by users of an online forum, who have branded it a "disgrace" and its staff "inexperienced".
Yachtsman Trevor Taylor started a thread on the online edition of Yachting Monthly magazine.
He said a trip to the island had highlighted a lack of knowledge among harbour staff and described his most recent trip as "a bit of a disaster".
Guernsey's Public Services Department said it would look into the complaints.
The forum attracted a number of readers, many of whom posted criticism of the harbour and its staff.
'Universal condemnation'
Mr Taylor said: "We've been coming to Guernsey for some years... but the last trip really was a bit of a disaster.
"The skills and the knowledge of the previous chaps who used to run the harbour was sorely missing.
"They [the new staff] don't have the skills to properly marshal the boats and a lot of the comments that have cropped up on the Yachting Monthly forum relate to inappropriate moorings.
"We had a word with the lads who were whizzing around but they weren't really taken seriously, and that's a common theme [on the forum].
"This is not just a few yachties having a moan, this is being described as virtually universal condemnation."
Jason Moriarty, Guernsey's Director of Tourism, offered a written statement saying the tourism branch of the Commerce and Employment Department had been made aware of the comments.
It said: "We replied saying that all feedback was important and gave an undertaking to alert the Harbour Authority to the comments, which we did. We then received a polite response from the complainant."
'Petty and nitpicking'
The island's Public Service Department, which runs the harbour, said it would look into the complaints and make changes if necessary.
A caller to BBC Guernsey, Royston, said other places had young members of staff working on marinas, and that Guernsey's staff must have undergone training.
He said the comments made on the Yachting Monthly forum were "so petty and nitpicking."
But a text from a BBC Guernsey listener, Sandie, said the criticisms were "constructive" and should be heeded.
Mr Taylor, meanwhile, suggested Guernsey look to the Isle of Wight or Yarmouth as example of well organised harbour operations.