Guernsey Police allowed to import Tasers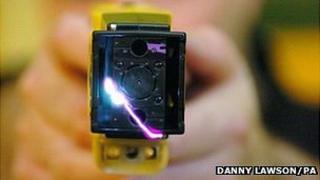 Guernsey Police will again been allowed to import Tasers and their ammunition from the UK if changes to the torture law are agreed by the UK Government.
The force, which first started using the electrical discharge shock gun in 2006, was stopped from importing the weapons after changes in law in 2009.
It was decided the stun guns could not be exported outside the European Union as they could be used for torture.
The island's police force would be made an exception to this legislation.
The Taser fires two darts with a five-second 50,000-volt charge, which can temporarily disable a person hit by them.
Its ammunition consists of a single-use compressed air cartridge, which fires the darts and has to be replaced every time the weapon is fired, and the darts themselves.
It is seen as a more effective, but "less lethal", alternative to conventional weapons.
Guernsey Police's policy on using Tasers is similar to its counterparts in the UK but in the island only authorised firearms officers are issued with the weapons.