Language poll held for Latvians living in Guernsey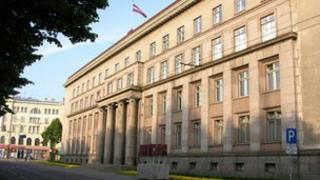 Latvians living in Guernsey will be able to take part in a vote that could affect their country's cultural identity.
St James Concert and Assembly Hall, in St Peter Port, is one of 85 satellite polling stations across 41 countries.
Latvians have been asked to decide whether or not Russian should be Latvia's official second language.
Prior to the country declaring independence in 1991 Russian had been its first language.
Lilita Kruze, president of the Guernsey Latvian Federation, said there were different feelings about Russia among her countrymen and women.
She said: "Latvia has been independent for 20 years, but if you go back into history Latvia was occupied by Russia from 1940-1941 and 1945-1991.
"By 1959 there were 400,000 [Russians] arriving into Latvia and no one asked us what we wanted, what was our choice, people were told to learn Russian in schools and to accept it.
"I didn't know any different because that was the only thing I did know, but listening to my mum and my other relatives it was quite a stressful time for them."
Ms Kruze said polls would be open from 07:00 to 22:00 on Saturday.
She said Latvians wanting to vote needed to bring along their passport and encouraged those from the other Channel Islands to travel over to take part in the vote.