Guernsey's States vet urges vigilance on sheep disease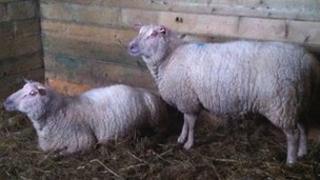 Guernsey's States vet has urged farmers to be vigilant in the face of a recent UK outbreak of Schmallenberg virus.
David Chamberlain said farmers needed to practice good hygiene and look out for deformed lambs after cases of the virus were reported across Europe.
He said that sheep in Sark were most at risk, as the island was further east.
The Schmallenberg virus is spread by midges and causes birth defects and miscarriages in livestock, according to the UK government.
More than 80 cases of the virus have been reported in the UK alone, with more in other parts of Europe.
Ben Wallace, a sheep farmer in Guernsey, said: "It's a worrying thing in the back of my mind at the moment."
He added that two of his sheep had been bought from an area on the border of Kent and Sussex which had reported cases of Schmallenberg.
He said: "It's a bit of a worry that they've come from there ... now they're over, they can't infect any of the other sheep, that's one good thing."
Mr Wallace said that as far as he had been made aware, the virus could not be spread from sheep to sheep, rather by midges alone.
He said that 65 of his 140 sheep would be lambing in the coming weeks, and that he had received helpful advice from the States on keeping his flock safe.
The virus was first detected in the UK in January, and there is no evidence that it affects humans.