Guernsey Cow Parade announced for the summer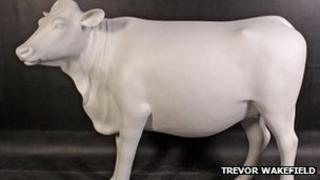 A herd of fibreglass cows will grace Guernsey's public spaces this summer.
The project will involve local artists decorating the cows, which will be displayed before being auctioned in aid of the Guernsey Adult Literacy Project.
Organiser Trevor Wakefield said the cows were in the production phase and would be shipped to the island shortly.
Mr Wakefield was responsible for Guernsey's Donkey Parade last year, which raised more than £58,000 for the Guernsey Adult Literacy Project.
The parade saw 41 painted donkeys displayed around Guernsey over the summer.
The cows will be displayed from 1 July, and more artists are being sought to get involved in the scheme.