Litter on Channel Islands beaches falls by half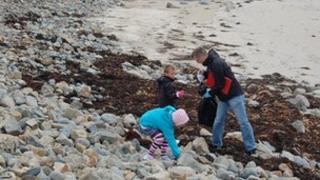 The amount of rubbish found on Channel Islands' beaches has fallen by nearly 50% according to the latest Beachwatch survey results.
The Marine Conservation Society's 2011 annual survey covered 335 beaches across the British Isles.
The Channel Islands were shown to still be the cleanest and saw a drop in the number of items found per kilometre from 1,015 to 545.
The overall average for the British Isles was 1,741 items per kilometre.
A total of 262 volunteers swept 24 beaches in the Channel Islands - 17 in Guernsey, five in Herm, one in Alderney and one in Jersey, collecting and recording the litter over a total of 12.4km.
For the islands, litter from beach users was the main source - 32% of the total - with fishing litter the second largest source of rubbish - 14% of the total.
Guernsey's Environment Minister Peter Sirett, said: "It's pleasing to see the reduction in the number of litter items found on the island's beaches.
"With the introduction of more recycling bins in some of the coastal car parks last year it has been easier for people to dispose of their rubbish and this may in part account for the improvement over previous years.
"However, yet again it is visitor litter that has been proven to be the main culprit, with nearly half of all items found wholly avoidable if people would just take the trouble to take their rubbish away with them."
The next Beachwatch Big Weekend survey and clean-up will take place on 15-16 September.