Guernsey Model Yacht Pond users' concerns over cracks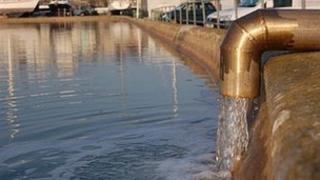 Users of Guernsey's Model Yacht Pond, in St Peter Port, have raised concerns over cracks in the structure.
Some said the damage had led to low water levels that made it difficult for people to use the pond.
Captain Peter Gill, the island's harbour master, said the pond was checked once a week and pumps were used to re-fill it when necessary.
He said repairing the cracks would cost £250,000 and there were higher priorities for the harbour authority.
Les Barnes, a model boat enthusiast, said they were unable to use the facility as they feared their craft would be damaged due to the low water levels.
Adam Reed, principal of the Guernsey Sailing Trust, said that while the harbour authority was always very helpful, the problems needed fixing or a new pond should be built.