Boat stuck on rocks off Guernsey lifted off on high tide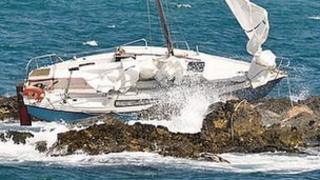 A boat stuck on rocks outside the entrance to the main St Peter Port Harbour has been brought safely into shore by harbour staff.
The 24ft-yacht Ardel hit Goubeau Rock on Sunday morning while moving from the QEII Marina to the main harbour.
The boat had ran aground on a high tide and needed a bigger tide before it could be re-floated.
Harbour staff were able to tow the yacht, which had sustained some damage, safely into the harbour.