Aurigny cuts 16 jobs at Anglo Normandy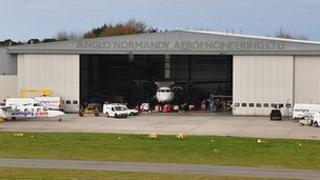 Sixteen jobs are to go at Guernsey plane maintenance firm Anglo Normandy Aeroengineering, it has been announced.
The company, part of the group that also owns airline Aurigny, said it was downsizing due to "intense competition in the aircraft maintenance industry".
Malcolm Hart, chief executive officer, said he was unable to compete against businesses from eastern Europe where labour rates were significantly lower.
He said a lack of work lined up for the year ahead had led to the decision.
Mr Hart said: "[With] the prospect of losses of over £500,000 for the current year if no action is taken, the board of directors has decided to stop offering a base maintenance service to other airlines.
Voluntary redundancies
"It is important to point out that these redundancies are not indicative of further job cuts across the group and will not impact on Aurigny's day-to-day maintenance requirements."
Anglo Normandy Aeroengineering was set up in 1975 to provide maintenance services to private and commercial operators and in 1978 became part of the group and sole provider of support for Aurigny's Trislander and ATR aircraft.
The company, which employs 50 staff, made losses of about £130,000 in both 2010 and 2011.
Mr Hart said meetings would be held with employees over the next week.
He said he hoped to achieve the reduction through voluntary redundancies and normal staff turnover.
Opportunities to transfer appropriate staff members to the airline side of the business would also be considered, he added.
As part of the changes, the base maintenance work on Aurigny's ATRs will be done by a third party, but Trislander maintenance arrangements will not change.