Jonathan Le Tocq 'won't withdraw' from chief minister election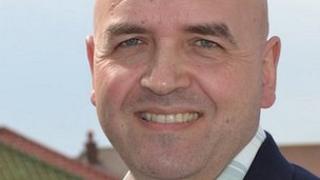 The only remaining candidate in the election for the role of Guernsey's chief minister will not be withdrawing his nomination, he has told the BBC.
Deputy-Elect Jonathan Le Tocq said he would not want to take the position without a vote of confidence.
He said changing the rules to allow all elected deputies to stand "would be a very wise thing".
Deputy-Elect Le Tocq said: "I'm disappointed that the first debate I have is over a change in the rules."
He said: "We all knew when we put our names forward in the general election what the rules were.
"Until there's a change in Guernsey's machinery of government the chief minister's role is important but it's not important enough for a constitutional crisis.
"I think we've got an opportunity here to work together and do so in a democratic, sensible and peaceable way."
The other chief minister candidate Deputy Lyndon Trott withdrew his nomination as he said it had .
Deputy-Elect Le Tocq said: "I'm surprised but not shocked, I think he has done an honourable thing.
"It's put me in a very difficult position. I'm the only qualified candidate at the moment and I certainly don't want to be in that position."
He said he would encourage the Policy Council, the chief minister and 10 department ministers, to put themselves up for re-election in two years time, halfway through the term of the States.