Two donkeys successfully rehomed by animal charity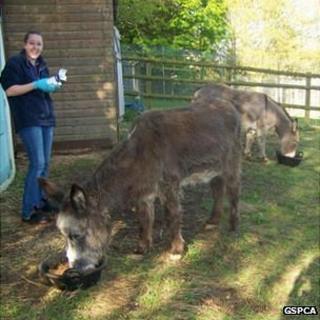 Two donkeys have been successful rehomed after they were taken in by a Guernsey animal charity.
Dizzy, 30 and Naomi, who is aged more than 40, have been at the shelter since the end of 2011 as their previous owner could no longer care for them.
Emma Trousdale, education and welfare officer at the GSPCA, said: "This is the best part of my job.
"Dizzy and Naomi's new owners are fantastic and they will have everything they need."
She said: "As soon as they arrived they got out and looked as though they had always lived there, they were so happy it warms the heart."
The new owners, who live in the island, did not wish to be named.
Sheryl Carre, animal care assistant at the GSPCA, said: "They have been great characters and all the children that have visited the shelter thought they were amazing.
"I will really miss them both but it is always lovely when we rehome animals, that's why we are here."