Call to remember Guernsey veterans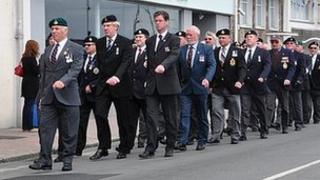 A former Royal Marine from Guernsey is calling on islanders to show their support for local military veterans on Liberation Day.
Ex-servicemen and women from the armed services have been asked to take part in the traditional church parade on 9 May.
Danny Blatchford, veterans platoon commander, said the focus on World War II left some veterans sidelined.
He said it was important to remember all the sacrifices made by islanders.
Mr Blatchford said: "Obviously we were liberated by armed forces and some of those armed forces were local men, so I think we need to remember that.
"Also there are other conflicts, which we need to remember as well on Liberation Day."
Veterans have been invited to take part in the parade since 2009.
It is one of the events that form part of the annual celebrations marking the end of the occupation of the island by German forces during World War II on 9 May 1945.