Bailiwick of Guernsey to light Diamond Jubilee beacons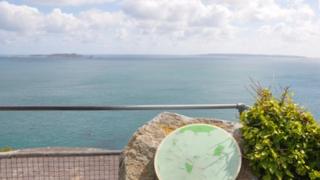 Beacons will be lit across the Channel Islands to celebrate the Queen's Diamond Jubilee.
The fires will be part of thousands of others around the world that will be lit in sequence on 4 June.
Bruno Peek, Pageant Master of the Queen's Diamond Jubilee Beacons, said it was great news that there would be beacons on all the Channel Islands.
He said more than 4,000 communities were coming together to celebrate the Queen's 60th year on the throne.
Originally used for communication or as warnings, beacon chains have come to be used for celebrations.
They were lit for Queen Victoria's Diamond Jubilee in 1897 and Queen Elizabeth II's Silver and Golden Jubilees in 1977 and 2002.
Mr Peek said: "Originally we were looking for 2,012 beacons to be lit across the United Kingdom, Channel Islands, the Isle of Man, the Commonwealth and the UK's overseas territories because 2,012 had never been lit before.
"More than 4,000 beacons will be lit throughout the world.
"We're lighting the beacons at 10pm local time in a number of Commonwealth countries that are taking part, such as Kenya, Malta and Tonga, which will be the first one to be lit.
"Then throughout the UK beacons will be lit between 10pm and half past with the Queen lighting the national beacon on the Mall at around half 10 that night."
He said the Channel Islands beacons were all being lit at 22:21 BST.
The fires are being built not just on the five main islands of Guernsey, Jersey, Alderney, Sark and Herm, but also on Brecqhou, Jethou and Lihou.
They include the southernmost beacon in the British Isles at Jersey's Elizabeth Castle, which has been organised by the bailiff's office.
David Filipponi, the Jersey Bailiff's secretary, said: "The bailiff will light the beacon by laser from the ramparts of Fort Regent after a concert.
"This will be preceded by a 21-gun salute by the Jersey Militia in the lower People's Park... the whole thing will be followed by a magnificent firework and flare display."
Five will be shining out from Guernsey with the island's official beacon at Castle Cornet, the parish authorities in St Andrew, St Martin and St Pierre du Bois lighting their own and one being lit at Les Cotils Christian Centre.
The majority are open to the public with Lihou Island, which is only accessible from Guernsey at low tide, being an exception.
Lihou warden Richard Curtis said: "It will be lit at the highest point of the island, on the site of the old Napoleonic watchtower."
He said invited guests would make their way back to Guernsey at about 01:00 BST, once the tide had gone out.