Guernsey ban methoxetamine import and export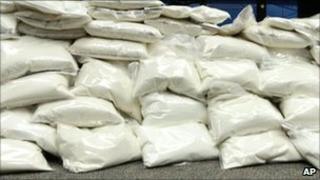 A ban on the import and export of the drug methoxetamine is being brought in by the States of Guernsey.
The so-called legal high, also known as mexxy or MXE, was made illegal in the UK in March.
The decision followed advice from the Advisory Council on the Misuse of Drugs (ACMD).
The Guernsey ban on both commercial and personal use quantities is due to take effect from 1 June and also applies to simple derivatives of the drug.
Mexxy is used as an alternative to banned Class C drug ketamine.
But tests by the ACMD found it could lead to "significant additional toxicity", including agitation, a faster heart rate and higher blood pressure, as well as unsteadiness on the feet.
Guernsey Home and Health and Social Services Departments said the ban would minimise the risk of harm in the island.
In a joint statement, the departments said the local Misuse of Drugs Advisory Group would be considering the latest evidence before deciding whether to recommend more control of methoxetamine under the Misuse of Drugs Law.