Guernsey public opinion on harbours sought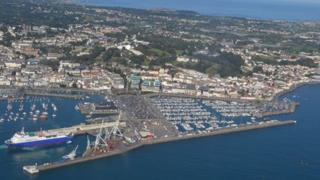 The public is being asked to contribute to a master plan for the future of Guernsey's harbours.
The Public Services Department hopes to get opinion on areas such as freight handling, traffic flow and some potential relocation of services.
Port users, business groups, community organisations and associations are being invited to feedback sessions.
When these sessions are completed a document will be produced and a wider public consultation held.
St Peter Port and St Sampson's harbours handle about 98% of all the island's freight and deal with about a third of all incoming and outgoing passengers.
As well as facilities for commercial ships, both also include marinas for leisure crafts.
Public Services Minister Paul Luxon said the harbours had undergone development and maintenance throughout their history.
However, he said there had been no overarching strategic direction or plan for previous developments such as the building of North Beach in the 1980s and the development of St Sampson's Marina in the 2000s.
He said: "The requirements of the harbours have always evolved, and it is now important to have a master plan to provide a long-term, co-ordinated vision for their future development."
The Public Services Department has appointed Moffatt and Nichol, a company specialising in marine projects, to help finalise the plan.