Guernsey harbour plan 'essential' say port users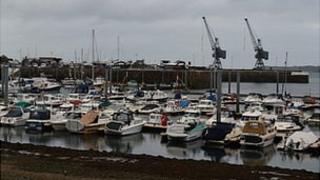 Guernsey's Commercial Port Users Group has welcomed moves by the States to develop a Port Master Plan.
President Steve Champion-Smith said the work was "essential for the sustainability of the island".
He said there was more freight coming into the island, but the area in which to deal with it had not changed.
Specialist consultants have been employed by the Public Services Department to draft a plan for St Peter Port and St Sampson's Harbours.
Mr Champion-Smith said: "We have to have a fit for purpose harbour in order to be able to survive, so it's for everybody in Guernsey not just the people working there."
Among the items being investigated are an improvement to facilities at St Peter Port and the possibility of building a deep water berth.
Mr Champion-Smith said: "This had been investigated over the years, there are tidal issues, no one is saying it's impossible, but obviously the greatest concerns are practically, time frame and cost."
Currently 98% of all freight enters the island through one of the harbours, with the remaining 2% coming through the airport.
Mr Champion-Smith said of the plan: "It's something that's been missing for many years, we applaud its introduction and the initiative and we look forward to being part of the working process."
He said improvements at St Peter Port Harbour would lead to a safer and better working environment for all those involved in commercial freight.