Raymond Evison awarded 24th Chelsea gold medal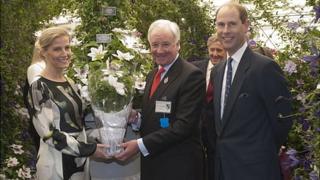 Cold weather was the biggest challenge, said Guernsey clematis grower Raymond Evison on being awarded his 24th gold medal at the Chelsea Flower Show.
It is the 10th gold medal for his company Guernsey Clematis, which has won one every year since 2003.
Mr Evison said he was relieved to have continued his winning reputation as it had been a challenging year.
He said: "It was probably one of the toughest ones to win because of the crazy weather that we've had."
Mr Evison said: "You know how cold it's been in Guernsey and even when we brought the plants here to London, now eight days ago, it's been so cold here so it really was a challenge.
"So our archway is not in full flower, thank goodness we had enough flower to win a gold, otherwise that would have been desperately disappointing."
The Guernsey Clematis garden was also honoured with a visit from members of the Royal Family, including the Countess of Wessex who was presented with a clematis named after her by Mr Evison.
The light pink clematis is new for 2012 and was among thousands of Guernsey-grown plants used in the company's display at Chelsea.