Guernsey toilet closure 'bad for tourists', says guide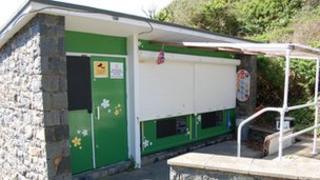 The closure of a public toilet in Guernsey has been described as "bad for tourists" by a local tour guide.
The toilet at Saints Bay has been closed, along with the cafe at the South Coast site, with the owner citing financial reasons.
Dudley Jehan said: "We have no monies whatsoever to maintain the building."
Sylvia Brouard, a tour guide, said "It's another nail in the coffin for tourism... I think it's just really bad for tourists."
She added: "It's not giving Guernsey a good name, is it?
"The next toilet is at least half an hour, three quarters of an hour [on foot]."
'Very regrettable'
The land the cafe and toilets stand on is owned by the Fief Blanchelande, which is in turn run by Mr Jehan.
He said: "It is very regrettable that these facilities have had to close."
He added: "50 years ago the States of Guernsey built this facility on fief land at a time when Saints Bay was a very busy bay... the bay has fallen out of favour."
Mr Jehan, who is the Seneschal of the Fief Blanchelande, said: "Fief Blanchelande operates as a charity, the very small income we have is used for the needy and the elderly who live on the fief."
He said the facility at Saints Bay was not profitable, and would take too much money away from the fief's funds.
Mr Jehan said the closure of the cafe and toilets is likely to be permanent, but that it may be reviewed in future.
Guernsey has a number of fiefs, which are ancient feudal districts associated with parcels of land around the island.