Guernsey recycling site closes temporarily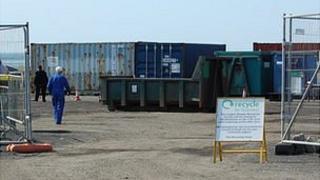 Guernsey's main recycling site is due to close in June to allow work to begin on the island's new slaughterhouse.
Longue Hougue recycling site has to move a few hundred metres to allow the £2m abattoir, which will replace one in St Peter Port, to be built.
The closure, from 11 to 25 June, will be used to upgrade and improve the site.
Recycling officer Tina Norman-Ross said the changes would include a better layout and clearer signage.
She said the Public Services Department was also hoping to install a covered area to store items such as wooden furniture and electrical items.
The department had applied for planning permission for the cover as currently the items had to be left out in the open, Mrs Norman-Ross said.
Public Services Minister Paul Luxon said: "The improvements should make a big difference and will help to keep any items left at Longue Hougue, in a good reusable condition.
"Of course, any reused or recycled items reduces the amount of waste currently going to landfill."