Flags of the Commonwealth raised on Guernsey mast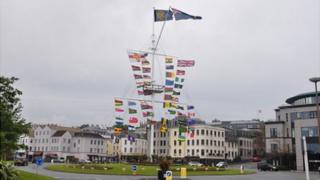 The flags of the 54 Commonwealth nations have been raised on Guernsey's memorial mast in St Peter Port to celebrate the Queen's Diamond Jubilee.
More than 80 primary school children and youth group members helped hoist the flags along with Guernsey's own.
John Silvester, president of the Guernsey Commonwealth Society, said it was important to remember the Queen's role as the head of the Commonwealth.
He said it would provide a great display over the Jubilee weekend.
Mr Silvester said: "They are really colourful these flags and they will really stand out, and will be flying for a whole week during the celebrations.
"The mast is going to look really spectacular... with the wind blowing as well, you'll see the splendour and all the colour which brings the Commonwealth together.
"It's just the thing for the 54 countries who are celebrating the Queen as the head of the Commonwealth for 60 years."
The children who took part were presented with a certificate by the island's Lieutenant Governor Air Marshal Peter Walker and Bailiff Richard Collas.