Condor Ferries fast ferry sailings cancelled due to weather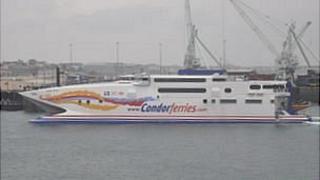 Fast ferry sailings between the Channel Islands and the UK have been cancelled for two days due to severe weather.
Ian Milner, Guernsey director for Condor Ferries, said: "The unseasonal weather has forced the cancellation of services this Thursday and Friday."
He said about 2,000 passengers were affected by the disruption.
Mr Milner said the company would be putting on an extra service to ensure passengers reached their destinations before the end of the half-term break.
On Sunday the Commodore Clipper, a passenger and freight ferry operated by the company, will sail between the island's and the UK instead of its scheduled Portsmouth to Cherbourg sailings.
Mr Milner said: "Condor Ferries is committed to providing a lifeline service to the Channel Islands... I'd like to thank passengers for their patience and understanding at this very busy time."