Filter reinstated outside Guernsey Airport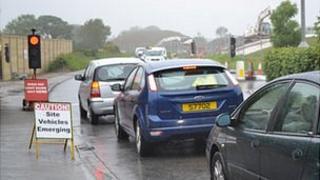 A filter in turn road system outside Guernsey Airport, which was replaced with traffic lights, will be put back on a trial basis.
The lights were installed in April while a two-year £80m airfield improvement programme is under way.
The Environment Department reviewed the decision following complaints about increasing delays.
Its political board also agreed to upgrade lights at Longue Hougue, which were also put in for the project.
A spokesman for the board said the lights would be retained to ensure safety when heavy, slow moving vehicles were entering fast moving traffic, especially at night.
'Unnecessary delays'
The members found the current traffic lights at the entrance/exit for the temporary dock were not "of the same specification and quality as the fixed temporary lights that should been installed for the two-year period".
The spokesman said: "The lack of these features along with defects in the lights, causing them to break down on several occasions, have, without doubt, caused some of the unnecessary delays."
In terms of the airport lights the members decided the safety would not be "significantly compromised" as long as the speed of contractors vehicles exiting the project compound, opposite the airport entrance, was controlled.
Environment Minister Roger Domaille said discussion would take place with the Public Services Department and the main airport contractor Lagan Construction before the filter was put back in place.
He said he hoped that would be within the next month and the trial would run for a month.
The department will then conduct another review.