Sir Isaac Brock statues planned for Guernsey and Canada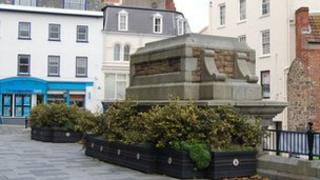 A descendant of Sir Isaac Brock hopes to commission statues of the army hero to stand in Guernsey and Canada.
Oliver Brock, a seventh generation descendant, has applied to register a charitable foundation to promote a number of commemorative projects.
Following discussions with Culture and Leisure, Mr Brock hopes to have the statues erected at Market Square and on the waterfront in Toronto, Ontario.
A confidential corporate sponsor and a sculptor have been found.
The Guernsey-born British army general became known as The Saviour of Upper Canada after repelling a United States invasion attempt during the War of 1812.
Mr Brock said: "Sir Isaac Brock was a soldier, far from home, who gave his life fighting on behalf of a people he had no historic connection with - something that resonates strongly in the modern world.
"His actions are celebrated by Canadians as having led to the formation of their country and they believe as a nation that without him the whole of North America would be known now as the United States."
Adrienne Alison, the Canadian sculptor who has already begun work on the project, said she expressed interest after talking to a Guernsey-based friend.
"I visited my friend in St Peter Port and... she lives on Brock Road and we got talking about Brock and how there are no statues of him," she said.
Ms Alison said the bronze statue would be slightly larger than life size.
"If you do a statue life size, it tends to look small in an outdoor environment," she said. "So we're aiming for larger than life - probably about 7ft [2.1m]."
Ms Alison will have few likenesses on which to base her sculpture, as Brock is thought to have sat for only one portrait, by Dutch artist Gerrit Schipper.
The original was loaned to the Riverbrink Art Museum in Ontario by the States of Guernsey in April.
Ms Alison said: "I'm going to try to work with that and age that face, because that was Brock as a young man, whereas I'm depicting Brock when he's 42-years old."
'Brock Day'
Guernsey and Canada have planned a series of events to commemorate the 200th anniversary of Brock's death at the Battle of Queenston Heights on 13 October, 1812.
Among the events announced on Tuesday by the island's museum service was a play written by The Guernsey History In Action Company.
This will be performed at Castle Cornet during the summer season.
The Guernsey Museum and Art Gallery will put on a foyer display focussing on his recognition as a hero in Canada.
In addition, the former Bailiff Sir Geoffrey Rowland and the Culture and Leisure Minister Mike O'Hara will take part in memorial events in Canada in the autumn.
On 13 October itself, which the Culture and Leisure Department has designated Brock Day, there will be a service of remembrance at the Town Church and a parade of ex-servicemen.
There will also be public access to Castle Cornet, where a cannon salute will be fired.