Guernsey sewage work reveals ancient coastline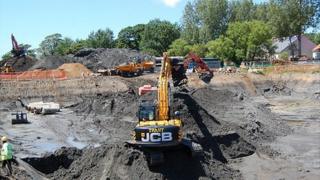 Work to improve Guernsey's wastewater drainage system has given archaeologists a rare chance to explore an area of the island's east coast.
A hole has been dug to hold a four million litre tank to store excess rainwater, as part of an £11m upgrade to the Belle Greve sewage system.
Archaeology consultant John Lihou said he hoped to discover the changes to the coast caused by rising sea levels.
He said wood and one piece of prehistoric pottery had been found.
Mr Lihou said he thought the pottery was from the Bronze Age and he hoped to age the site by carbon dating the wood.
He said the site, which is 300m from Belle Greve Bay, used to be beach and examining it would help them understand how the coast formed.