Guernsey fishermen allowed to land catch in Dielette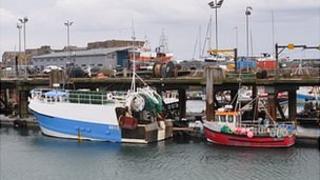 A new French port has allowed Bailiwick of Guernsey fishermen to land their catches, helping to cut the time, costs and risks involved.
Chris Morris, senior officer at Sea Fisheries, said previously fishermen could only land their catch in Cherbourg or St Quay Portrieux.
He said: "Journeys to these ports, can be time consuming, costly and in bad weather, hazardous.
"Fishermen will now be able to land fish directly into Dielette."
Mr Morris said about 80% of fish caught by Bailiwick fishermen were currently landed in Cherbourg and sent on throughout France, Spain, Portugal and Italy.
Dougal Lane, president of the Guernsey Fisherman's Association, said: "Operating a fishing vessel is extremely expensive and this initiative is a very welcome boost to the fishing fleet.
"The opening of Dielette will be a big help to many fishermen and could make a big difference to their businesses."