Nine injured in Sark carriage incident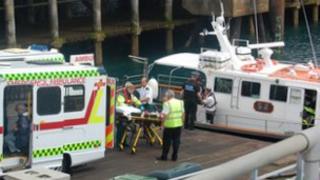 Nine people have been hurt in an incident involving a horse-drawn carriage in Sark.
Malcolm Mechem, senior ambulance officer for Guernsey Ambulance and Rescue, said eight of those injured were holidaymakers, believed to be from Germany.
He said the most seriously hurt person had "life-threatening" head injuries.
The carriage had overturned with eight or more people on board, resulting in a range of injuries. It is not clear why.
The incident is believed to have happened on the Dos D'Ane near La Coupee, a narrow isthmus connecting Little Sark to the main island.
Guernsey Ambulance and Rescue said more than 10 members of the service had travelled to the island to deal with the emergency.
The Flying Christine III, the Bailiwick's marine ambulance, was dispatched along with other vessels at the request of the Sark doctor.
Mr Mechem said Dr Peter Counsell had transferred all the casualties to Sark's harbour by the time they arrived.
The four casualties assessed to be in the most serious condition were taken to Guernsey on the Flying Christine III.
The Brecqhou Chief brought another five casualties to Guernsey, arriving at 14:55 BST.
All the casualties were transferred by ambulance to the Princess Elizabeth Hospital for further assessment and treatment.
Ambulance reserve volunteers were called in to support crews in Guernsey during the marine operations.