Guernsey States review lacks public voice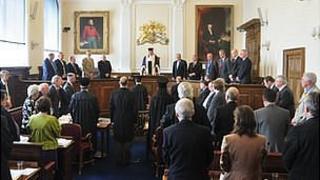 Attempts to recruit Guernsey residents to sit on a special committee to review the island's system of government have failed.
Chief Minister Peter Harwood said there were two suitable applications, but those people lived off island.
The States agreed a delay to allow a budget to be prepared so people from off island could be considered.
It was also agreed the five political members could work on the review before the independent members were elected.
The committee will also prepare a report on the implications and associated costs of appointing two members from outside the island to go before the States in September.
This decision was criticised by some members who queried the extent of efforts to recruit locally and whether it was wise to pay for external members to join the committee when significant cuts were being made in across the States.
Deputy Harwood, who is the committee chairman, insisted it was important to appoint people with the right knowledge and experience.
He is the chairman due to his position as chief minister and Deputy Matt Fallaize also sits on the committee due to his position in government - the chairman of the States Assembly and Constitution Committee.
On Wednesday Treasury Minister Gavin St Pier was elected unopposed to represent the Policy Council.
Deputies Richard Conder and Mark Dorey were also elected to the committee.
They received 38 and 34 votes respectively while the only other candidate Lester Queripel received 12.