Guernsey electricity cable repair contract signed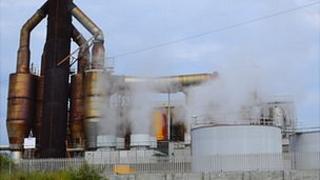 Repairs to the undersea power cable between Guernsey and Jersey could be completed by August.
The Channel Islands Electricity Grid has signed a repair contract with the original manufacturer ABB High Voltage Cables.
Alan Bates, Guernsey Electricity's managing director, said the repairs should take about three weeks.
He said the exact timing would depend on any delays caused by weather and tides.
The repairs will involve two ships and an remotely operated undersea vehicle, which will operate about 5 miles (8km) off the island's east coast.
Mr Bates said: "We are planning for work to begin offshore in the second week of July.
"The main repair ship Team Oman is currently in Sweden picking up the necessary equipment for the repair as well as our spare section of cable."
If repairs are successful the importation of energy from France via Jersey will resume.
Guernsey Electricity has been generating electricity on island since the fault occurred on 29 April.
That involves burning about 2,000 tonnes of oil and gas a week.
Following the repair operation the damaged section of cable is due to be taken to the UK for forensic examination to establish the exact cause of the fault.