Sark Folk Festival 'to get no bigger'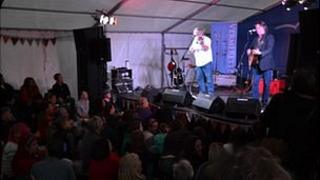 Sark Folk Festival "will get no bigger" says its founder and organiser after record breaking crowds travelled to the island over the weekend.
It was the third time the event had been held and more than 1,400 people attended, more than double the island's population of 600.
Simon Harvey said the number of tickets would not increase as Sark was already at capacity.
He said he wanted to retain the small-scale atmosphere of the festival.
More than 40 acts from the Channel Islands and the UK performed from Friday to Sunday.
Some accommodation providers in the island said they were already getting bookings for next year's festival from 5-7 July.